So many different types of doors are available today that if you have a unique architectural idea it just may be available! Low headroom, standard, high-lift and full vertical lift doors all custom built to your specifications. We offer insulated, non-insulated, full-glass view, wood, composite, and many other door styles.
Broken Springs, Damaged Sections and Worn-Out Hardware
For same day repairs on broken springs, bent sections and damaged hardware are stocked on our service vehicles available locally for immediate repairs
Steel, Wood, Aluminum, and Durable Impact Resistant Doors
With so many different environments in today's market place and industrial manufacturing or architectural needs, there is a door suited for your needs.
Insulated and Non-Insulated Options
With todays high cost of energy there is little doubt an insulated door is the best way to go in any working environment
Automate Existing Manual Doors and Troubleshoot Existing Operators
Do you have a need to automate a door? With remote control options that can now tie into your phones wi-fi feature to make operating your doors remotely easier
Safety Device Installation and Repairs
Safety devices are intended to keep us all safe, reduce or prevent damage or injury due to an operating door. We can install a variety of safety devices to any overhead door, gate or coiling doors
Rodent and Insect Seal Abatement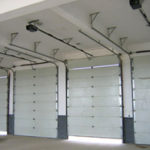 Your building is under constant attack from pests gaining access inside. Quantum Doors offers many options to seal those pests out with a variety of proven products to insure it is done correctly the first time
Weather Seals
With energy costs soaring it is more important than ever to insure the building is adequately sealed against the elements.
Car Wash Doors
This harsh environment demands the most rugged door hardware to insure the door operates as needed day in and day out
Horizontal sliding doors and vertical lift doors
Quantum Doors can provide repair service, installation or preventative maintenance to your industrial sliding doors
Preventative Maintenance
It is proven that properly maintaining mechanical equipment allows it to last longer, work better or retain more long-term value when properly maintained. Typically the largest moving objects in a business, it is crucial your doors operate safely and properly to insure long term safe and proper operation. Let Quantum Door Services custom tailor a maintenance plan to save your business money and have your doors operate safe and proper.