Glass and Aluminum doors are typically used in most retail and commercial businesses and are the first experience your customer has with your business. With many repair and replacement options available making a statement for your business just got that much easier.
Surface Mount, Concealed and Floor Closers
Closers have a limited life and fail sooner in high use areas and can be identified by a slamming door or by a clear leaking fluid above and around the door and closer. These closing devicescan be quickly and easily replaced to insure your doors are working safely and properly.
Hinge and Offset Pivot Hardware Including Continuous Hinges
Most common door pivot and hinge types are stocked on our service trucks for immediate same day repairs.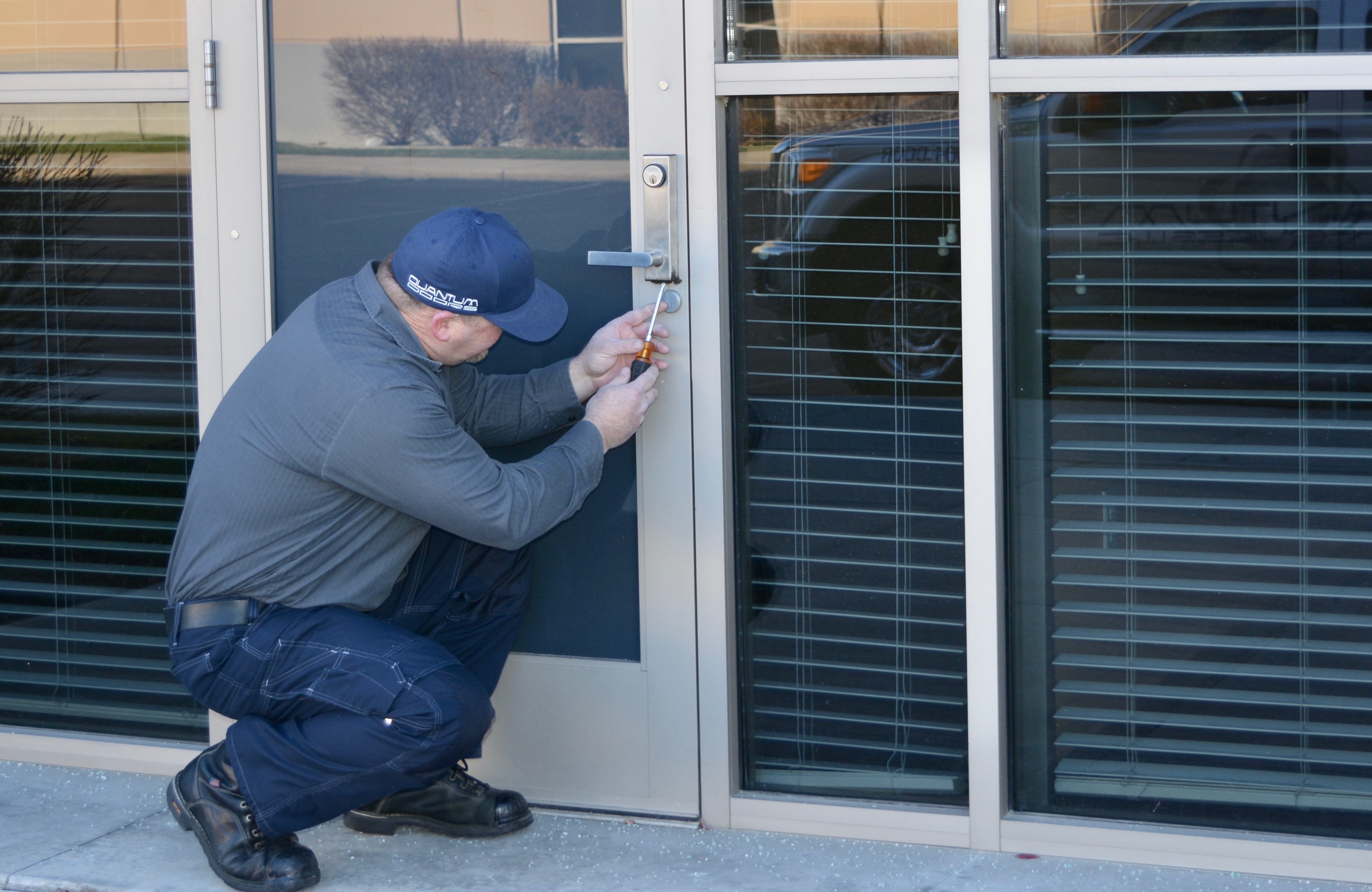 Glass Repair and Replacement
We can update your existing glass to new insulated technologies or we can board up a broken piece and replace it with new. Same day service is available for quick and easy repairs.
Store Front Locks and Access Controls
Most common storefront locks are stocked on our Service Trucks for immediate same day repairs.
Panic Exit Device and Entrance Trim Hardware
No need to replace your existing door! Panic exit devices can be easily installed on your existing steel or glass doors. Access Controls can be used in conjunction with panics to meet most of your security and code compliance requirements.
Rodent and Insect Abatement
There are solutions for all door areas with our vast knowledge of seal types and resources we can insure your business succeeds in keeping these pests out!
Weather and Sound Attenuation Seals
With energy costs soaring it is good to know there are inexpensive, long-term solutions to seal those doors and frames. If that noisy street is problematic for your business there are many products and solutions to help with your existing doors too.
Full Glass Doors
With contemporary building architecture becoming more main stream and older buildings being constantly updated and improved there are so many full glass doors, frame and hardware styles to choose from.  We also stock the most common parts for these doors for same day repair service if the doors are in need of repairs.
Glass Replacement
Professional Board up service to insure security when the glass has been compromised. Glass replacement as well as new technologies to help save energy and money!
Preventative Maintenance
Lubricating all pivot points, locks and points of friction insure the door operates at its best, and most efficient to extend door hardware life and reduce or eliminate repair costs.